Giada de Laurentiis is just plain hot. There's no getting around it. Not only does she know her stuff about cooking and food, but she's as sexy as a chef can be. Talk about your kitchen fantasies.
Move over Julia Childs. Step aside Justin the Cajun cook. Go away Bobby Flay. Giada de Laurentiis is here for good.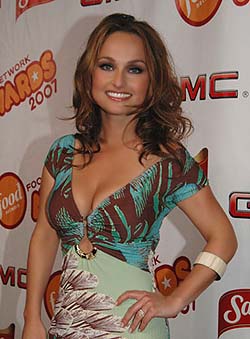 You know what I don't understand? How did a fat fuck like Emeril Lagasse get his own show? Have you watched it? It completely sucks, especially now after I've seen Giada. Giada has a certain smoothness that can speak to the layman cook or the professional chef. Her show, Everyday Italian, on the Food Network is one of the best I've ever seen.
Giada is just bursting with personality, talking the camera like you're really there in the kitchen with her. She doesn't talk down to you or act uppity or speak over your head. Her show is all about educating you on how to make great Italian food without three hours of preparation. It's perfect.
Emeril, on the other hand, reminds me of someone's dirty Italian uncle from New York who's in for the weekend to visit. He's creepy, inarticulate, hairy, brutish, sloppy, and spits when he talks. He just plain sucks. How the hell did he get a show of his own?
I have a game for you. If you can sit all the way through one of his shows, try to count the number of "uhs" he spits out. And keep a column for dead air time when he can't think of the word he wants to say. You'll stay very busy but at least it will give you something fun to do while you endure this talentless fuck.
Here's a clip of Giada's show on YouTube …
You may think me a sexist pig for loving to watch Giada and her cleavage but really, it's the whole package. She's an excellent cook, she knows her kitchen well and she makes her show homey and entertaining. It doesn't hurt that she shows just enough cleavage to keep men interested. Maybe she'll get more men in the kitchen this way? And you've got to admit, she doesn't really show that much cleavage, it's just enough to be tantalizing, like a tad of lemon zest added to a bechamel sauce.
And yes, I do know what bechamel sauce is, I cook and I cook well. That's how I discovered Giada. For me, it wasn't the other way around. I flipped to the Food Network one day about a month ago and I was mesmerized. Her show is really well produced, cutting out the boring sections like spending thirty seconds taking a pan out of the oven. Watch Lagasse and you'll see how NOT to produce a cooking show.
I gotta say though, just so you know I'm not being totally sexist, I do love Bobby Flay's show too, Boy Meets Grill. If you're looking for another well-produced show, go find that one on and enjoy.
Or, of course, you could click to Giada and lose yourself in those sexy Italian eyes!!
Comments
comments