I was born in 1971 and I was given my first album in the late seventies. And it was an actual album, not an 8-track or a tape cassette (CDs didn't even exist in science fiction back then). If you knew me now, you'd never guess what my first album was.
I'm a major music fan and my influences lean toward the British Invasion of the sixties and the American Answer during the same decade. On one side, you have The Beatles, The Zombies, The Kinks, The Who, The Rolling Stones, etc. On the flip side, there was The Beach Boys, Paul Revere & The Raiders, The Rascals, The Turtles, Tommy James & The Shondells, The Four Seasons, Three Dog Night, Creedence Clearwater Revival, etc. And let's not forget the Motown sound with Diana Ross & The Supremes, Smokey Robinson & The Miracles, Aretha Franklin, James Brown, Little Stevie Wonder, The Temptations, The Dixie Cups, etc.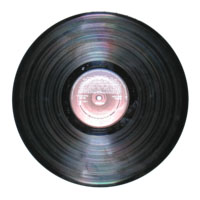 The musicians I listen to today were influenced by the same bands – Second Saturday , Steve Ward , Jack Johnson , Jellyfish, Jason Falkner , John Mayer, Hall & Oates, The Romantics, Tom Petty, etc. My tastes run from mountain music to eighties rock to sixties surf to power pop. I enjoy everything from harmony-infused to acoustic solo to banjo picking to classical symphonies.
About the only genres I don't touch are rap, hip hop and new country. Although, old country still holds a place in my heart due to the childhood memories they dredge up. Conway Twitty, Johnny Cash, George Jones, Loretta Lynn, Tammy Wynette, etc.
Knowing all this, there's no way in the world anyone in their right mind could ever guess what my first album was. I was influenced by it in countless ways that are not immediately evident, the same way we are all imprinted by our first love. It is totally unlike anything I've listed as a true influence but to this day, this album still affects me like no other. It was my first. I still have it today, in its original jacket with its original sleeve. It's in pristine condition without a single scratch and it's a group that everyone knows.
The album was Destroyer and the group was Kiss. The song Beth on that album is still one of the most beautiful ballads I've ever heard to this day. I know what you're thinking, how could this guy who's favorite artist in the world is Brian Wilson, love an album that is as anti-Brian Wilson as possible? To those of you wondering, I have an answer.
Shout it, shout it, shout it out loud.
Comments
comments