I was playing Scrabble yesterday and I began to wonder if they televised the Scrabble championships.  They have them, you know, because I've read about them.  But do they televise them?  Do they provide play-by-play with color commentary?
Announcer Voice:  Hello and welcome again to Pawtucket, Rhode Island, home of Hasbro, for the 2008 World Scrabble Championships.  I'm Jim Nash along with Rocco Malley, the 2004 New Jersey champion.
Rocco: Hi Jim, wonderful to be here, it's a perfect day for scrabbling in Rhode Island.
Jim: (staring at Rocco, then back at the camera, resuming fake smile)  If you're just joining us, we're in the middle of a fierce match between two proven champions; Sharon Arbus from Michigan and Michael Diggs from Nebraska.
Rocco: Yeah, Jim … Arbus and Diggs are virtually tied with Diggs ahead 164 to 158.  But you know what Jim? (waits for Jim to answer but he just gets a blank stare)  It's Arbus's turn to go so we should see yet another lead change here.
Jim:  (looking back at camera, resuming smile)  And it looks as if Arbus is preparing to go; she's pulled two letters off her rack, she's headed to the far side of the board.
Rocco:  I think she's got the X!  I think she's got the X!
Jim:  And it looks like she's dropping them on the double-word … she is!  She's playing the classic XI-XU-N square combo for a whopping 38 points!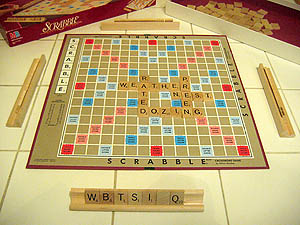 Rocco:  That definitely gives her the lead, Jim!  Oh, she's playing this game for keeps!  You see the look she's giving Diggs?  You see the determination in her eyes?  I've seen that before, that's the look of a true competitor!
Jim:  Diggs is standing up now with his rack in his hand.  What is he getting ready to do?  This is highly unorthodox.
Rocco:  I'll tell you what he's doing, he's giving it right back to her!  Just when Arbus thinks she has breathing room, Diggs is gonna drop a seven on her!
Jim:  Diggs is emptying his rack onto the right side of the board, he's doing it and staring down Arbus the whole way.

Rocco:  He's got the Q, Jim!  He's got the Q!  He's got the mother(beep)ing Q and he's gonna drop that bitch on Arbus in a seven letter bomb.  Can you believe it?  Just when she thinks she's got a little space to move, Diggs drops Q-U-E-S-T-O-R on her.  Oh God, how many points is that?
Jim:  Well, he got the Q on a double-letter square and it's running over a double-word …
Rocco:  That's gonna be a whopping 116 points, Jim!  Oh man, that's a slap in the face to Arbus, she ain't gonna recover from this one!
Jim:  Yes, indeed.  This may be the last lead change we see in this game …
…
Can't you just see it on ESPN2?
I bet they'd carry it, complete with slo-mo replays and player back-stories that covered their meager beginnings in the professional Scrabble world.  Interviews with past champions and game experts, pointing out weak spots and playing errors.  Maybe some stats about number of vowels played versus consonants, how many money letters are left, defensive plans.
Yeah, ESPN2.   Definitely.
Comments
comments