Some might disagree but they'd be wrong. There are other condiments that run a close second but as far as I am concerned, ketchup is the most important food accompaniment ever invented.
The British might make a case for mayonnaise, as would some Southerners. Nothing's better on a cheese or tomato sandwich. And it's almost blasphemy to leave Duke's mayo off an egg sandwich. Trust me, in the South, we take our mayo very seriously. Miracle Whip is a salad dressing, not a mayonnaise. Duke's and Hellman's and JFG, those are mayonnaises. And Duke's is a cut above the rest.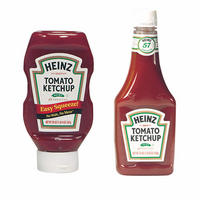 Other cultures may argue for mustard. Yellow mustard, stone ground mustard, honey mustard. Mustard is definitely the most versatile condiment out there. And yellow mustard also doubles as a cure for heartburn and cramps, you can't beat that. Grey Poupon commercials rank among the most memorable ever, right up there with Nike "Just Do It" and Wendy's "Where's The Beef." I can't imagine a corndog without it being slathered with some tangy mustard.
Barbecue sauce comes in many different flavors. From a tangy tomato base to a vinegary mustard base, there are hundreds of varieties to choose from. They go great on everything from chicken to pork to beef. I couldn't imagine shredded pork barbecue or grilled chicken without a nice rich barbecue sauce.
Then there's hot sauce. Texas Pete and Frank's RedHot and Tabasco lead the way here in mass market appeal with thousands and thousands of others to choose from. There are websites abound with hundreds of choices to make you sweat and when it comes to chicken wings, nothing can touch a batch drowned in hot sauce.
Some other contenders are ranch dressing and bleu cheese dressing. Great with hot wings or vegetable trays, potato chips or fries. Not to mention salads. Soy sauce isn't bad but mainly sodium. Worcestershire sauce isn't far away from soy sauce.
All of them are good but none come close to the wide-spread appeal of ketchup. Name me another condiment that has two completely different spellings (ketchup and catsup)? There is no food that doesn't go with ketchup. Beef, pork, chicken, fried okra, pinto beans, popcorn shrimp. Fries practically cry out for a thick rich bottle of Heinz. Add horseradish to it to get the classic cocktail sauce for seafood. Tomato-based barbecue sauce is really just ketchup with other ingredients added. McDonald's special sauce? Ketchup and mayo and relish.
When I was growing up, I was a very finicky eater. I wouldn't touch foods that were green (unless they were jelly beans or M-and-M's). My mom was smart, she used to cover my green peas in ketchup. She drowned green beans in it, drenched broccoli, immersed brussel sprouts.
Ketchup was the choice of condiments to accompany my most hated foods. It's the only condiment that spans the taste buds of all food groups, adding life to any food imaginable. It's also the base for numerous other condiments and it even has natural mellowing agents. When I first remember eating a slice of tomato, I thought to myself that it tasted like watered-down ketchup. Ketchup is without a doubt the greatest condiment ever invented.
Comments
comments